In 2017 when Roger's whenua was returned to his hapū, 4 generations had lost the ability to walk on and use the land. Roger decided to change that.
"In 1917, the local County Council urged Crown agencies to acquire the land known as Kowhairoa. Then, in 1921 the Crown took my tūpuna's land in Kowhairoa under the Public Works Act, and locked it away under the Scenic Preservation Act. Our hapū had no land to call their own."
Roger's vision is to restore the hauora (wellbeing) of the land. He hopes to return the forest to a healthy balance and reconnect whānau to the land.
The why
"For the last 100 years we as a hapū have not had the ability to practice our kaitiakitanga. Our generation can now be kaitiaki to the land, to utilise it our way.
"I asked my uncles what they'd want to see on the land. I asked, would you like a marae? Would you like to see the trees come back? See the birds come back? One day camp on there?
"They said it was too big an ask and that became my why. Four generations never had the chance to utilise the land. We've got the land back, and now we're going to get all the nice things back too."
"Our generation can now be kaitiaki to the land."

Roger
The whenua
The land compiles the entire Kowhairoa peninsula. It's 285 hectares of steep coastal land located in the Whangaroa Harbour in Northland. Isolated and without road access, you can only get to the whenua by boat.
The land Roger's hapū got back was far from the flourishing forest Roger dreamed to create for his whānau. Cleared by burning 100 years ago, it was mainly secondary growth forest with kānuka, some kauri, podocarp and nikau in the gullies.
Getting started
Sometimes getting started is the hardest part. Getting people involved in the journey, connected to the idea, and finding funding is a challenge without a plan.
If Roger wanted a forest to flourish, he needed to take control and inspire others to come on his journey.
"To be a good leader you have to have followers and then the ability to sell that vision to them."
He set up a meeting with people who had whakapapa to the land. He divided up roles and donated $400 from his own pocket to start a bank account. And it was done, a starting point was made.
Dealing with pests
The state of the land was challenging. They could see the forest was dying. It was overrun with possums and pests.
"We decided to focus on the flora because we could see it. Fauna comes later when we can get under the flora, see the amount of damage done and how to make it regrow."
To allow the flora to grow, they set traps to get rid of the pests. Roger used the funding available to cover the costs.
"Our first funding application was with the Department of Conservation. They said we could have $450,000 but this quickly rounded down to us receiving $160,000 to use for pest eradication."
They were self-taught but managed to set traps, monitor them, and establish tracks. Support from agencies like the Department of Conversation (DOC) and Northland Regional Council helped them monitor pests and gave their funding reports validity.
Despite their efforts, pests continue to be an issue. To seek ideas the whānau attended Predator Free 2050 in Wellington. Hearing stories from others provided the inspiration they needed.
"We applied to Jobs for Nature to extend our predator free boundary by addressing the scenic reserve (DOC land) next to our land. We managed to get $2.1m approved, with DOC's protocols applied, we have to live with and adjust to them."
Extending the predator free boundary will eventually reduce some of the work the whānau have to do to control the pests and allow their trees to grow.
"Eradication is something we need to remain on top of. If we plant more trees, there'll be more berries, and more predators to eat them. It's a constant battle."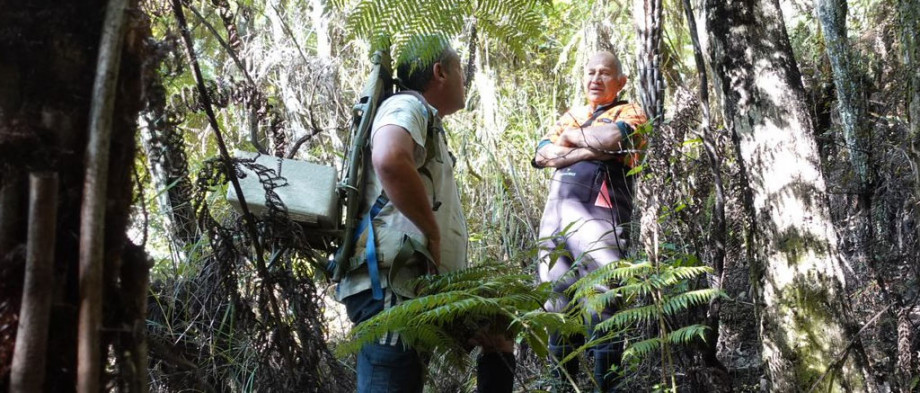 Ready to plant
After years of pest control, in 2018 they were ready to start to bring the forest back. The goal shifted from possum and rat eradication to planting trees.
"At first, we went charging out into the bush and started seed collecting, we didn't know what we were doing and didn't know what seeds we were collecting. So, we engaged a botanist."
They explained their vision to gather seeds, and plant them to encourage birds to come back. The botanist helped assess the whenua and current birdlife.
The support from botanists and ecologists, helped them get $1.5m funding from the One Billion Trees programme to start the planting project.
Adam Forbes, a Forest Ecologist developed a planting plan through the One Billion Trees funding.
Advice from others
Seeking help is the theme that runs through this story, it ties practical support and funding together to create a successful project.
By talking with others, Roger could make use of expertise, saving money and time on trial and error methods.
"We wouldn't be where we are without people holding our hands – amazing people – forming those relationships is important. Realising you might not have the skill set but being able to go out, ask questions and keep knocking on doors until you find someone who can help in one way or another is useful."
This methodology of collaboration paved the way for many relationships. But seeking knowledge to help wasn't something they did from the start.
"Everything we did we had to first learn how to do it and needed to build our mātauranga, along the way. For example, how to collect seeds, how to trap pests. It would have been great to have had more support from the outset, so we didn't have to figure out so much on our own."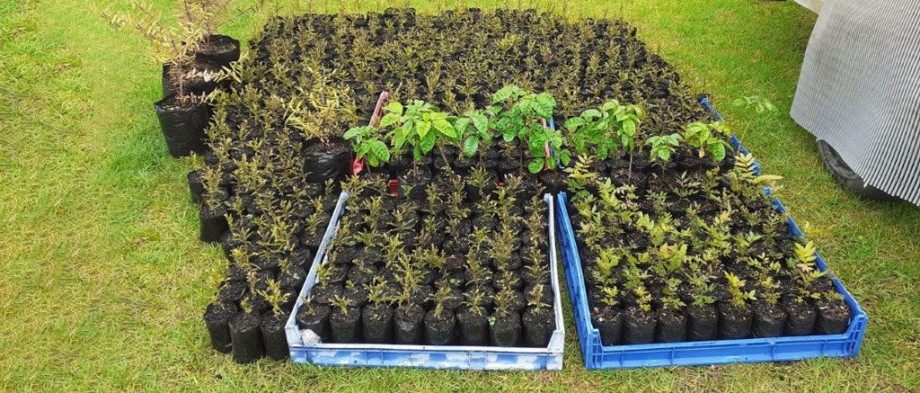 Challenges
Although funding helped Roger achieve some goals, money remains a challenge.
"A lot of the foundation work has been unpaid, going into the bush and picking and collecting seeds. Then quietly, getting people to commit to unpaid work is hard in itself."
The hapū needed a plan for long term income that wasn't reliant on government grants and loans.
"The target is to become self-sufficient. We're going to have to make the seedlings pay for our future."
"We as a hapū have now got the ability to practice our kaitiatikanga our way."

Roger
Looking forward
What does the future hold for the whenua? The plan is to set up a shaded nursey on the whenua. A challenge because their funding grant doesn't cover this. But Roger is determined to find a way to make it happen.
Getting everyone on board can be hard when they can't see the vision. Convincing whānau of what's possible with $400 seemed impossible. But the project is on its way to becoming a forest.
Roger has the vision and is the driving force for a project he may never see completed.
But Roger is not doing it for him. He's doing it for everyone else. He'll be happy if he sees a kauri tree grow 5 feet in 20 years, knowing his mokopuna will get a flourishing forest.
"We as a hapū have now got the ability to practice our kaitiatikanga our way.
"At times we have to look backwards to see where we've been, to know where we are going, with the realisation we can achieve a better future for our whenua and Ngahere Māori.
"To all the outside agencies representatives whom set aside time, to come and visit the project, and have allowed me to quietly manipulate your train of thought and to partially sell you the vision, thank you all for just listening.
"Ki mai te korero "A tona wa" Time will tell."